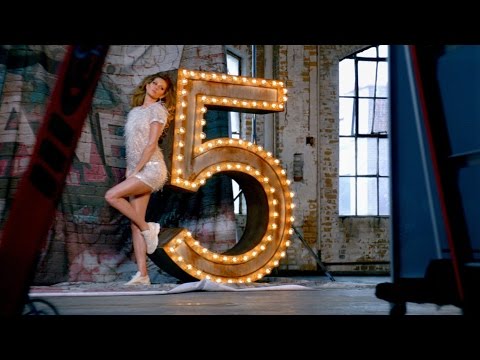 Want to feel old? Baz Luhrmann's first Chanel No 5 video, the one starring a fresh Nicole fluttering around Paris in pink marabou feathers and ending up in the arms of Rodrigo Santoro, came out more than a decade ago. Well, Baz is back, and instead of Nicole he brought Gisele with him. His updated film, which you can watch above and runs a little over three minutes, is very Luhrmann-esqure. There's a bit of Moulin Rouge (cabaret set, dramatic musical number) and a pinch of 'The Great Gatsby' too (glitz, glamour and a gorgeous aerial shot of a convertible drive into Manhattan), but with some modern muse elements thrown in. Here, Gisele is not just a gorgeous girl who's the lust interest of a gorgeous man, but she's also a working mother. Who knows how to surf like a goddess and has invested in some serious beachfront real estate.
Chanel hosted a party for Baz this week in New York. It being Chanel and it being Baz, though, this was no minor production. They built a sunken cabaret theater in the middle of Chelsea (conveniently enough, two blocks from my apartment), complete with velvet banquets, a stage and every handsome cater waiter in New York City. Baz introduced the film in what was definitely an unscripted but super charming stand up routine in which he heckled his wife and lauded Gisele. Then, he left the glitzed up posse to their own devices. Which for me meant a bad kids table in the corner that meant repeatedly asking waiters for more caviar and tequila, and sneaking cigarettes when they weren't looking. (What? It's French company.) I was sat between my New York wifey, Lauren Santo Domingo, and my St Louis sister, Karlie Kloss, and what was a revolving table of our bonkers pals. Lily Allen went behind the bar to make us drinks when the aforementioned handsome wait staff were bogged down. We teased Vladimir for being so eligible and his sister Julia for being the hottest Momma at the table (and lets say there was stiff competition). Poppy was just being Poppy. We dismantled the table decorations and flower bombed other tables. And ultimately the night ended up with us swinging Baz and his wife around until the wee hours.
PS. Mom, if you're reading this, I promise I was just holding that cigarette for someone else.