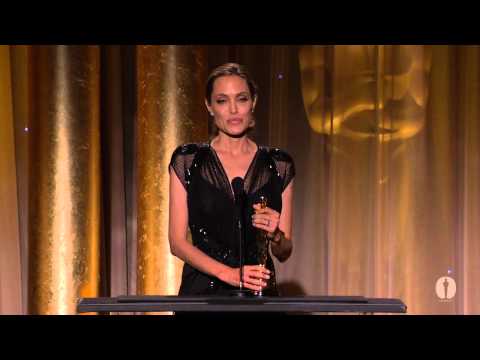 My opinion on Angelina Jolie has vacillated in the decade-and-a-half-or-so that she has been a part of my cultural consciousness. Though, I can remember when I first became aware of the pouty-lipped Hollywood next of kin: The silver, sparkly, low-cut, body skimming Randolph Duke dress she wore to collect her Golden Globe Award for portraying late 90′s supermodel Gia Carangi for a TV movie will be forever engrained in my brain. (I remember having to then go to a magical place called Blockbuster, which doesn't exist anymore, to rent the movie, which also had a profound effect on me.) If you don't know that dress, it's worth a Google search.
In the years that followed, there were a variety of transformations. I was into her when she was Goth and weird and had black hair and made edgy movies (forget 'Girl, Interrupted,' has everyone seen 'Hackers'?). But then I was sort of over her when she made out with her brother at the Oscars. Not because I think it's weird to make out with a sibling, but because I thought it was a cheap gimmick to get attention. I felt like, 'Listen, bitch, you just won an Oscar, you're going to be in the paper tomorrow regardless.'
It was hard to shake that interview where she came out of a limo at a movie premiere and told a reporter that she had just had sex with Billy Bob Thornton inside of it. The poor driver. (I was unmoved by the admission that the two had created necklaces for each other of their own blood. I like a statement accessory.) But I was into her as Lara Croft, because that's badass.
I'm a Jennifer Aniston fan, so I was none to pleased when she wedged her fat lips into the middle of that relationship and split them up, though I have to admit her and Brad Pitt made a fabulous couple. And was I the only person who really enjoyed Mr. and Mrs. Smith? Even today, if that's an option on an airplane, I rewatch that movie. When she's in the white men's oxford and he's only in boxer shorts is cinematic gold.
My jury is still out on the double mastectomy she had last year. I don't know enough about breast cancer to weigh in on the benefits of that, and whether or not her decision to be so public about her surgery will encourage or confuse other women about what to do if they have a history of the disease  in their family. At the very least, it seems like a whole lot of trouble to go through for a boob job. (I'm making a joke here. Don't leave me nasty comments.)
Then came her humanitarian effort. In the beginning, I wanted to be behind it. But one has to wonder if the girl that fucked Billy Bob Thornton in the limo just a few years before really had her heart in it. And despite the documentary films and the campaigns and the fat donation checks, I still had a teeny tiny reservation. Until I saw this video. Angelina, you've wooed me over here. In the video she's accepting the Jean Hersholt Humanitarian Award at the 2013 Governors Awards, which is an award that has previously gone to Oprah, Liz Taylor, Paul Newman and a bunch of other successful actors with hearts of gold. In it, she thanks Brad, who is still hot even with a bit of older distinguished man bloat, and one of her sons. And then she thanks her late mother for teaching her the importance of living a life beyond Hollywood, and that true success is measured beyond a box office. For this momma's boy? I was putty in her hands.
Sure, she's an actress and delivering a good speech is part of the job. But I believe her here, and that's because I wanted to. I want Angelina, who has been through so much (drugs, a mother dying, bad relationships, do I have to bring up the fucking Billy Bob again) to have come out the other side. I want her to want to make the world a better place in whatever way she can. And if that involves a bit of grandstanding and Saint Angelina photo shoots, I'm down. So, as of right now, I'm a fan. Again. Maybe I will go and get that mammogram after all.